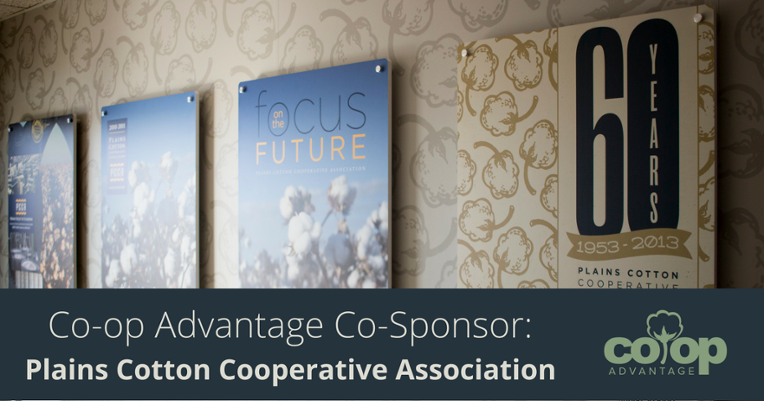 Innovation and integrity are two values of The Co-op Advantage®. Beginning the series on Co-op Advantage co-sponsors, today's post highlights Plains Cotton Cooperative Association.
A History of Innovation
PCCA was founded by a group of Texas High Plains farmers searching for a way to achieve the best possible prices for their cotton. These visionary farmers were not afraid of innovation and embraced developing technology and new strategies in order to achieve their goals. Today, PCCA is made up of 15,000 grower-owners and has trade territory spanning Texas, Oklahoma, Kansas, and New Mexico.
This fearlessness helped PCCA become one of the largest cotton marketing organizations in the industry. PCCA's grower-owners changed the very nature of marketing cotton in this region.
In 1963, cotton producers in the Texas Rolling Plains and Oklahoma invited PCCA to offer its cotton marketing services in their areas. This move spurred a steady growth for PCCA in the cotton marketing industry with new warehouses in Texas and Oklahoma for storing, sorting and shipping its grower-owners' cotton.
A defining innovation that characterizes PCCA's history is its 1975 introduction of electronic cotton marketing known as TELCOT. In addition to this, the introduction of Electronic Title System and Electronic Warehouse Receipt technologies revolutionized the ownership and transferring of U.S. cotton.
PCCA's forward-thinking strategy is still going strong which can be seen in its newest innovation, "module tracking." This technology increases the visibility of the supply chain by starting in the field. Gins can manage and monitor cotton from the field to the finished bale, all with the convenience of tracking from their smartphones or tablets.
A Mission of Excellence
In true cooperative fashion, PCCA is governed by the farmers who own it. Grower-owners elect their directors and have a say in how the cooperative business is run. By focusing on market-performance, working together with other co-ops, giving back to the community through active participation, and prioritizing the best interests of its grower-owners, PCCA upholds the seven cooperative principles.
PCCA's mission is to "ensure the long-term profitability of its grower-owners through value-added marketing programs and through services to their gins." The cooperative's dedication to cutting-edge marketing strategies and technologies makes it a valued ally for the cooperative community and an incredible sponsor of the Co-op Advantage.
An Investment in Community
Innovation and profitability for grower-owners is extremely important when it comes to cooperative benefits. However, co-ops also help their neighbors by providing a trusted, long-term business partner in their communities.
Kevin Brinkley, President and CEO of PCCA, emphasizes the cooperative's dedication to community, and its gratefulness for the hardworking women and men who populate it.
"As a true, grower-owned cooperative, we invest in our members and our community. We are committed to those we serve which includes our members, customers, employees, and vendors. Some call that loving your neighbor. We always want what is best for them. PCCA grower-owners are some of the most hardworking, kind people around. They are resilient and optimistic when times are hard, and we have seen them come together to support one another in those times."