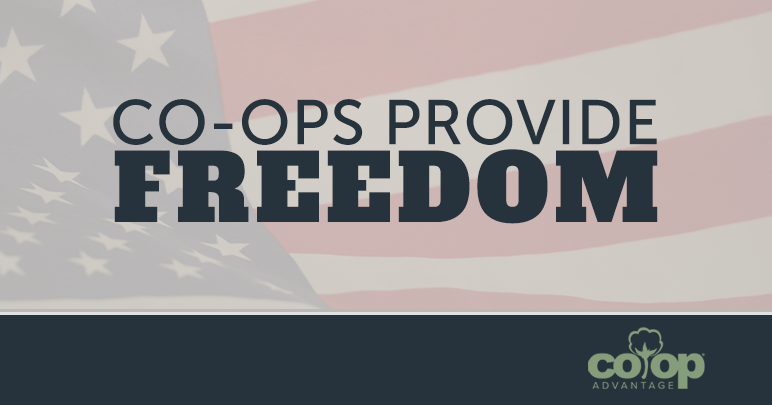 July is especially important as Americans reflect on our nation's birthday and the freedom we have to act, speak and think as we want without hinderance or restraint.
Our forefathers sacrificed their lives for our freedom, and 10 percent of our nation – those who serve in uniform – continue to volunteer to maintain it.
Our producers across this great country, also choose to maintain our great land to provide not only for their families, but for families across the country and the world in both food and fiber.
Freedom is something producers don't take for granted. That's why local and regional co-ops offer all those across the supply chain the freedom for our producers to do what they love with less concerns related to their farming operation.
Cooperatives were developed with seven basic principles in mind. With open and voluntary membership, and always member-controlled, cooperatives make decisions together. Always stronger together, local and regional cooperatives grow and control their own destiny; above all else, always assisting each other and investing in their communities.
Co-op Advantage®️ regional co-sponsor Plains Cotton Cooperative Association President and CEO Kevin Brinkley often points to cooperative principle number six: Assisting Other Co-ops.
"Just as we achieve more together through each co-op, each co-op is more efficient when working with other like-minded businesses," he said. "It helps the returns of our grower-owners if we create programs and systems that emphasize the combined value of a grower-owner's investment in all of his co-ops."
By actively participating in multiple local and regional co-ops, you have an opportunity to use your voice and the freedom to actively participate in the decision-making process of your business.
As we reflect on this important month of our nation's birthday, we will continue to focus on the many reasons we are thankful for our grower-owners and this land of the free.
That is the Co-op Advantage.