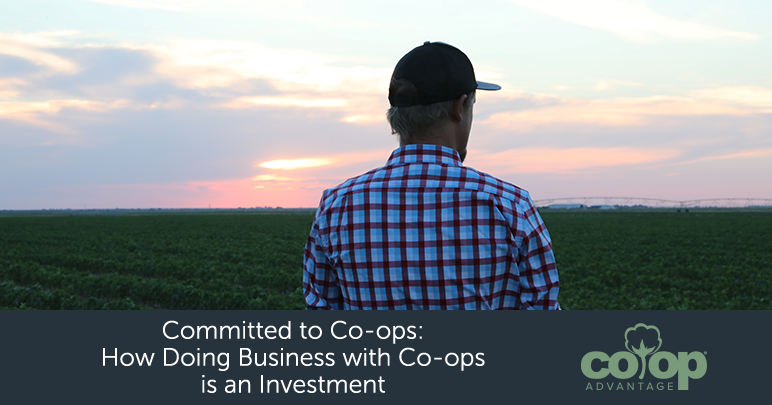 A commitment to co-ops is a commitment to your business future, knowing you will never be alone.
Support is possibly one of the greatest purposes of true cooperation – to provide grower-owners with the tools they need to keep their farming operations viable and profitable. Whether it is dividends that help carry you through a tough year or advocating for strong farm legislation, cooperatives stand up for and protect their grower-owners.
IT STARTS WITH YOU
Co-ops could not exist if not for their grower-owners. After all, grower-owners are the ones who make the decisions, invest in the process and are dedicated to the growth of not only their cotton business, but the entire agricultural industry. And, no matter what level of the supply chain in which you work, It's important to consider becoming a co-op member at every level.
"Being part of multiple local and regional co-ops at every level of the supply chain allows you to have a larger piece of the pie," said Meadow Co-op Gin Manager Dan Jackson. "In both strong and lean economic times, you have a greater team effect working for you at every level."
CO-OPS WORK FOR YOU
Local and regional co-ops are working day in and day out to provide both sustainability and added value for grower owners.
Co-op Advantage®️ regional co-sponsor PYCO Industries is one example of working for grower-owners to benefit from all aspects of the mighty cottonseed – from food to fiber.
"We aren't going to just acquire the seed we need to accomplish our goals for that year," said Tony Morton, PYCO Senior Vice President and CFO. "We are going to acquire all the seeds our members deliver to us."
The proof's in the pudding. In some bumper crop years, PYCO has received more seed than they're designed to hold, yet they stand true to the co-op mission of service to grower-owners and do whatever it takes to be working for you.
"Our owners are the gins, and ultimately the producers," Morton said. "Our goal is to maximize our producers' bottom line by being a good steward of what God gave us in the form of cotton and to help our neighbors at every turn."
By joining local and regional cooperatives, they're able to work for you by competing in the marketplace on your behalf. In working cooperatively with other grower-owners, you have more prominence in the marketplace – providing you with the best possible value for your crop, while minimizing your risks along the way.
INVESTING IN YOUR FUTURE
Local and regional co-ops make money for you, not from you. As a grower-owner, you have a stake at each level of the supply chain, receiving dividends at each step. Additionally, true cooperatives keep your money local. Rural communities benefit from your investment and are strengthened through your work and commitment as a grower-owner.
"Dividends are a blessing at the end of each year," Jackson said.  "There's no better investment than being part of the vertical integration process to assist each other throughout the entire system, not just monetarily, but also in giving grower-owners an even greater opportunity for their voice to be heard."
Bottom line: A commitment to co-ops provides an opportunity for decision-making, rural strength, added value and support. True ownership offers an opportunity not only for you but for generations to come, making sure strength in numbers leaves no one alone.
That is The Co-op Advantage®️.