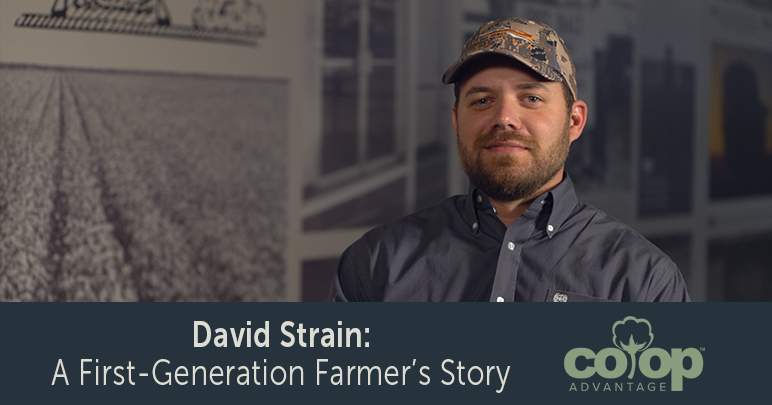 As any farmer knows, adaptability is a must in the agricultural industry.
First-generation grower-owner David Strain has it in spades. He purchased his first field in Roscoe in 2015, had his first daughter with wife, Heather, in 2016 and is eagerly awaiting the birth of their second daughter the end of this month.
First-generation farmer. Family man and father – learning it all simultaneously within the last three years. At 37, Strain says it's not quite that simple. He thanks the years of learning the ins and outs of farming to fellow grower-owner Steve Moore, also of Roscoe, who he's assisted on his land since 2012; and to his years learning while in college with a Slaton farmer – mainly during harvest season.
But farming wasn't his first choice. Originally a welder after high school, Strain went on to study financial planning at Texas Tech and worked for many years in the banking industry.
For him, something was missing. Not a "desk guy," as he put it, Strain wanted more. And, after reflecting on his years learning to farm and recognizing his longing for family time and using his hands – he was drawn to working the land.
Strain said he's thankful for his background in the financial industry because it has benefitted him on the business side of farming. It's helped him in tax decisions, financial planning for his farming business, and has better equipped him to understand the politics of farming – including Farm Policy and its effect on the nation's agricultural industry as a whole.
One of forty-six attendees at this month's Co-op Producer Orientation, Strain said the day was beneficial in many ways. Mainly, he said, is seeing first-hand how being a co-op member allows grower-owners to turn over so many things that farmers don't have the resources to do on their own.
"Pure and simple, the more I'm involved (in co-ops), the better I'll be. We're all benefitting from each other … and from a community aspect, the benefits of a co-op allows more time with family."
While not a born and bred farmer, one thing is for sure: Strain has it in his blood. Dedicated to the cooperation of continued work with Moore, growing his own land, and the focus on family only a farmer can understand, Strain represents the very best of American grower-owners.
"If there's one thing I had to say about this year's orientation, it's that I'm glad to know (co-ops) are looking out for me. They support me."
To the farmer, the family man and the new father: Welcome to The Co-op Advantage®!