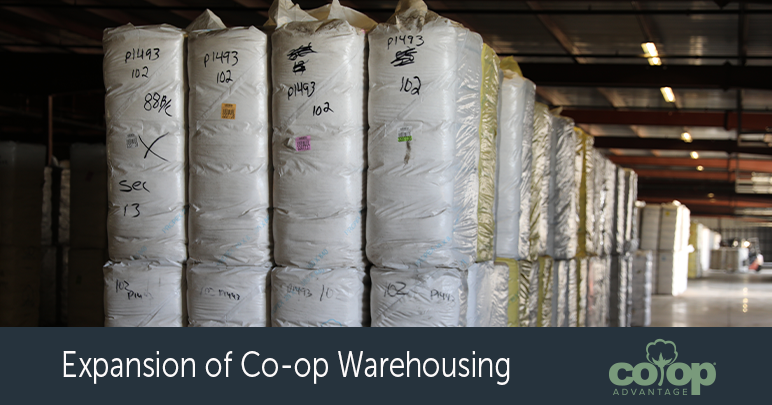 In the co-op industry, producers are guaranteed a place to store their cotton. Every year, millions of cotton bales pass through the warehousing system before making it to their final destinations. This level of the supply chain serves as an integral part of adding value to grower-owners' cotton.
That is why FCC High Plains, an expansion of Co-op Advantage®️ regional co-sponsor Farmers Cooperative Compress, is opening for business next month.
"We're very excited about this," said Eric Wanjura, FCC Vice President of Administration. "Our new plant manager, Matt Hennig, is bringing new energy to a fresh area that meets the needs our grower-owners have asked for, and we're committed to exceeding those needs."
Momentum for FCC High Plains began only a few years ago as the need was recognized for warehousing closer to the Texas Panhandle. Many producers' cotton bales were having to travel more than 150 miles, adding tremendous transportation costs to their gins' bottom lines.
The FCC Executive Committee researched and studied the cotton expansion patterns in the Panhandle during its strategic planning sessions and recommended the Board of Directors approve construction of state-of-the-art warehouse facilities.
FCC then went to work by purchasing 300 acres of land and constructing not one, but two warehouses, each with a capacity of 66,000 bales. Additional construction includes a load out building, shop and office.
Panhandle producers, Wanjura said, have been slowly transitioning from corn to cotton due to water shortages, and the cotton warehouse expansion has come just in time.
"We're committed to all our grower-owners, and we anticipate more cotton producers in the Panhandle," he said. "We've built FCC High Plains to have plenty of room to grow."
FCC is also growing to the west in Sudan, Texas. Last season, the expanded warehouse was into its third year and up to a capacity of 160,000 bales. Wanjura said FCC would like to see the Sudan operation grow to a 250,000 bale capacity in the future.
Additional warehouse expansion is happening through Co-op Advantage regional co-sponsor Plains Cotton Cooperative Association in both Kansas and Oklahoma.
To meet the demands of grower-owners in Kansas, PCCA increased warehouse capacity by 40,000 bales in anticipation of this year's harvest. In Oklahoma, PCCA is expanding for future harvests with new warehouse space in Altus.
"It's important to recognize need in all areas and expand in those areas for the long haul," Wanjura said. "We're looking forward to this harvest season for all our grower-owners by adding value and exceeding their needs now and for many, many years to come."
That is The Co-op Advantage.