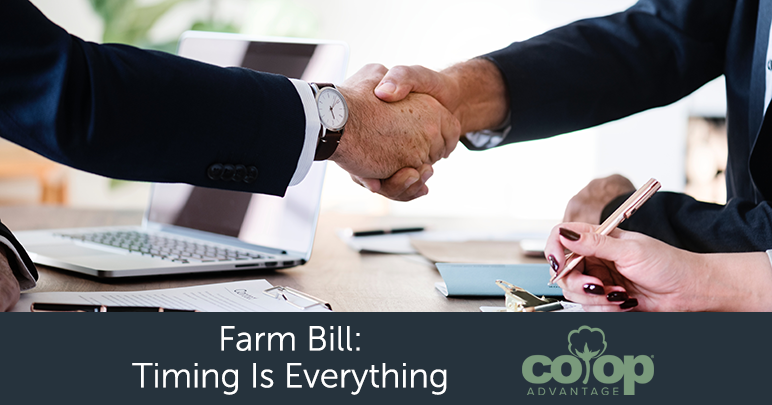 It's been said good things come to those who wait. Nothing could be more true than the waiting those across supply chain endured as they hoped for cotton to be once again a covered commodity under the 2018 Farm Bill.
Just one month ago, the wait was over. A bipartisan vote – overwhelmingly supported by both the House and Senate – now includes many of the cotton industry's top policy priorities.
While efforts have gone on behind the scenes for a long time, Co-op Advantage®️ regional co-sponsors, their grower-owners and legislative friends across the country have been fighting for what's right for our nation's largest cotton patch: sustainability for our farmers, economic certainty, and safety net provisions such as continued access to risk management tools that will help provide it.
Plains Cotton Cooperative Association President and CEO Kevin Brinkley acknowledged the long and deliberative process to provide a meaningful safety net and congratulated the efforts of legislators for always working on behalf of the cotton industry.
"This bill, and the work on seed cotton leading up to it, is a huge win for our cotton farmers," Brinkley said. "This new Farm Bill comes at a critical time for many family farmers."
In a statement after the Bill passed the House, Agriculture Secretary Sonny Perdue said, "The passage of the 2018 Farm Bill is good news because it provides a strong safety net for farmers and ranchers, who need the dependability and certainty this legislation affords."
President Donald Trump signed the bill into law in late December.
So what does this mean for cotton farmers?
It goes back to the good things for those who wait. While cotton was returned to Title 1 in early 2018, the bipartisan support of U.S. cotton-growers continued as cotton remained in the safety net of the 2018 Farm Bill. They recognized the need to move on disaster relief legislation to assist all, including cotton farmers.
The risk so many cotton farmers have been enduring for years now will be assisted to a greater extent. While not perfect, so many fought – and won – to be sure those working our nation's largest cotton patch are back under Title 1 of the Farm Bill. Our supply chain now can breathe a little easier for the next four years.
Thank you grower-owners, for letting your voice be heard. If not for you, The Co-op Advantage®️, each of its four regional co-sponsors and the legislators who heard our voices could not have made this come to fruition.
One, strong, united voice speaks volumes. That is just one benefit of being a grower-owner.
That is the Co-op Advantage.