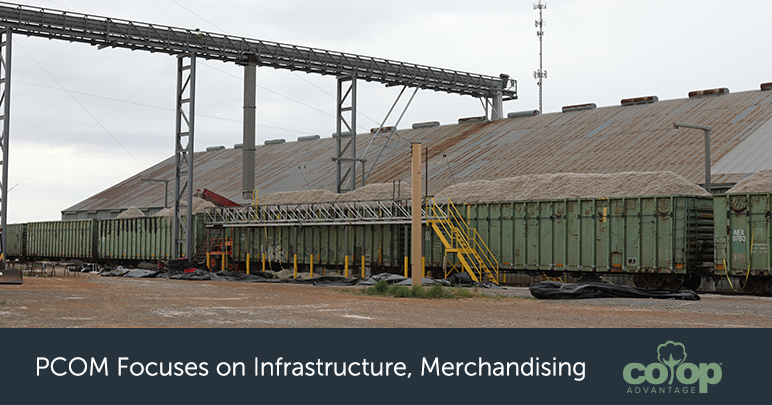 This fall, The Co-op Advantage®️ regional co-sponsors reflect on their 2017-18 fiscal year-end reports to grower-owners.
Recent blogs have discussed regional co-sponsors PCCA and FCC.
Regional co-sponsor Producers Cooperative Oil Mill is no exception, as they continually work to improve processes year-over-year for grower-owners.
PCOM President and CEO Austin Rose said their focus has been on infrastructure, recently completing a new cottonseed storage house in Altus, OK, that will house 25,000 tons for this year.
"We've seen big growth in acreage over the last several years, especially in Oklahoma," Rose said. "Our goal is to grow along with cottonseed production and increase our infrastructure to maximize the needs of our grower-owners."
In fact, they have. PCOM is the only cooperative nationwide that can simultaneously load two 100-car cottonseed unit trains and transport to dairy markets on the west coast. Overall, Rose explained, PCOM is transitioning from an oil mill to a merchandising co-op.
"We have to be here to move product," Rose said. "Providing a marketplace for our member-gins is job one. Our gins and our producers deserve added value, and we work each year to provide that at a higher and more efficient level."
Rose explained no one along the supply chain is ever alone, nor should they be. As part of a cooperative, grower-owners are guaranteed real ownership, and an investment in their future – helping to balance the unknowns of production costs, weather and market volatility.
Established in 1944, PCOM began by focusing on evolving technology and processing methods. Since 2016, PCOM has been focused on marketing whole cottonseed nationwide that maintains their commitment to serving its co-op gin members.
"The cooperative model represents individuals – the producers that actually grow the cotton and supports the cotton gins that are our members," Rose said. "What we do benefits them directly, because the money we make and the cash flow that is generated by PCOM is returned to them. Cooperatives are owned by the people we serve. It gives me more incentive to do well because I know the people I'm working for."
Always working for their grower-owners, PCOM is yet another example of The Co-op Advantage.