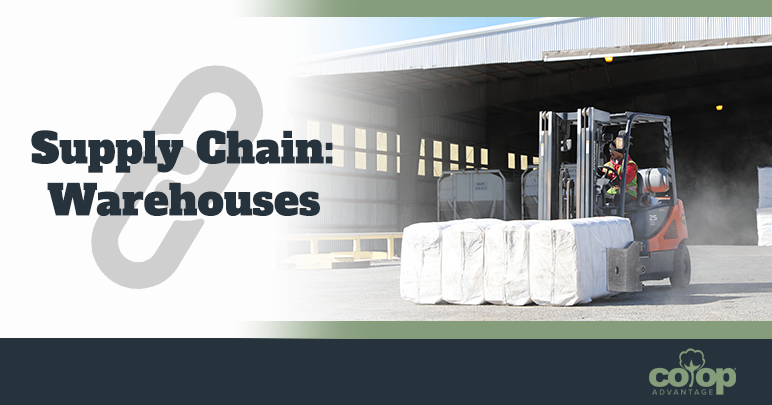 A robust supply chain depends on the strength of each link. Agricultural cooperatives have significant investments in making sure their production goes to market in the most efficient way possible.
"Warehousing plays a vital role in the supply chain," said Eric Wanjura, Vice President of  Administration for Farmers Cooperative Compress. "We receive, protect and ship in order to add value – after the long, hard work of farmers."
FCC, regional co-sponsor of The Co-op Advantage®️, is the world's largest cotton warehousing facility, with more than 230 warehouses providing more than 12 million square-feet of space. As a producer-controlled and governed organization, FCC serves members by responsibly storing and shipping cotton worldwide from its warehouses in Lubbock, Plainview, Levelland, Sudan and Stanton.
"The advantage of doing business with a co-op is having a say in how it's run," Wanjura said. "Our members have a voice, and that's why our priority at FCC is always service."
Each year, FCC begins receiving its first cotton inventory in October, when it is then stacked and inventoried. From there, it is protected and stored until it is shipped domestically and/or abroad.
A critical part of the service the FCC team focuses on is timeliness.
"We depend on our great people and equipment to assist gin managers in getting cotton to the warehouses, and then assisting in getting producers' cotton to market with great service and in the timeliest manner possible," he said.
When asked, Wanjura was quick to answer his favorite part of the warehousing process.
"Receiving," he said. "While I enjoy the shipping part as well, because it's great to know cotton is going off to market, there's just an amazing camaraderie as warehouses begin receiving the hard work that has gone on in the supply chain links before us."
Hard work also continues with FCC as they continue to grow. Meeting the demand of cotton grown north of I-40, FCC will be ready to receive cotton for the 2019 harvest season; with the name, FCC-High Plains Division.
Added value. Larger voice. Community involvement. Camaraderie. All words Wanjura uses in describing the reason for being a part of multiple local and regional co-ops at each level of the supply chain.
"If you're in the cotton industry, you're a part of the supply chain," he said. "Each link works hand-in-hand. By having ownership, your investment provides stability in both good times and bad – and you have a say in how things are run."
That is The Co-op Advantage.