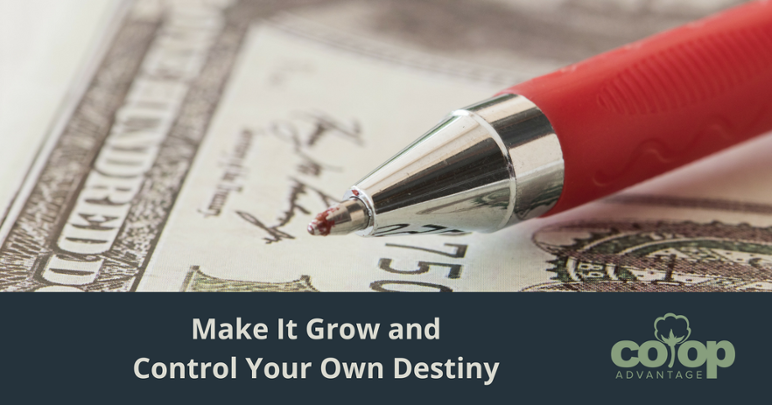 Last blog, we began taking a closer look at the Seven Cooperative Principles that make up the core foundation in which grower-owners live. Our first two focused on how, as a co-op, we Build it Together – by farmers, for farmers – with open and voluntary membership; and how our grower-owners Make the Decisions. Today's blog will expand on co-op principles two and three:
Principle 3.) Make It Grow
We're not talking about the crop, here. This principle is focused on making grower-owners' money grow. This is the investment planning of a co-op; and one of the greater parts of the Co-op Advantage®. Grower-owners contribute equally to, and democratically control the capital of the cooperative. This benefits grower-owners in proportion to the business they conduct with the cooperative rather than on the capital invested. Bottom line: as a grower-owner, you are guaranteed not only that your money stays local; but also that you're putting it back into your community. Most importantly, you are actively participating in your financial future – and ultimately – your bottom line.
Principle 4.) Control Own Destiny
Farming may be one of the single-least controllable careers. Those who choose to farm our nation's great land have true grit as they tough the ever-unpredictable Mother Nature, who gives and takes from year to year. Input costs always are unpredictable and market prices are set far beyond the long days' work of those who plant, grow and harvest season after season.
Enter principle four. Destiny can be better-controlled when you have a choice of who you do business with; and how you choose to do that business. That's the Co-op Advantage.
One of our nation's greatest strengths is the common thread of, "United we stand; divided we fall." By working together, in a united front, co-ops provide grower-owners the opportunity to have autonomy and independence; while at the same time choosing both how they do business and with whom.
While Mother Nature, market prices and other issues may be out of farmers' hands; grower-owners are given the best possible leg up to help their bottom line.
Bottom line: There is power in numbers.
We look forward to looking more closely at principles five through seven next month. Together, all seven principles make up the value that is the Co-op Advantage.