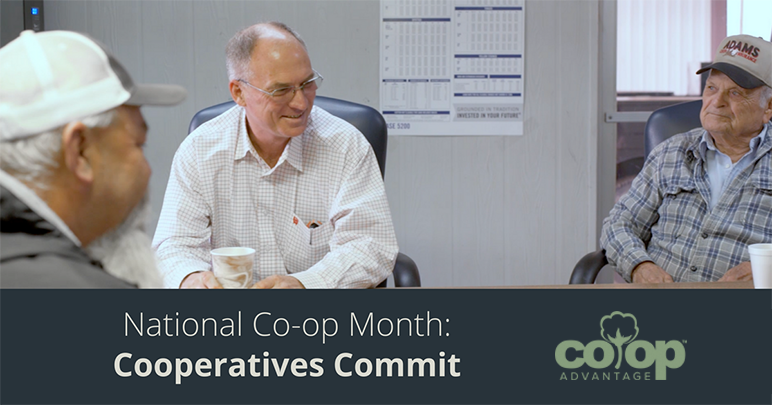 October celebrates National Cooperative Month, along with 40,000 other cooperative businesses serving more than 120 million people nationwide. "Cooperatives Commit" is the theme of this year's celebration, as cooperatives across the nation engage in efforts to make more people aware of the advantages of the cooperative business model.
While this month recognizes the efforts of all co-ops working to help their members' bottom lines, it's an opportunity for The Co-op Advantage® to specifically celebrate our regional co-sponsors and their grower-owners.
Those co-sponsors – Plains Cotton Cooperative Association, Farmers Cooperative Compress, PYCO Industries, Inc., and Producers Cooperative Oil Mill – are committed to the true ownership grower-owners deserve.
As true, grower-owned cooperatives, The Co-op Advantage regional co-sponsors intentionally live according to the seven cooperative principles:
Build It Together (Open and Voluntary Membership)
Make the Decisions (Member Controlled)
Make It Grow (Economic Participation and Ownership)
Control Own Destiny (Autonomy and Independence)
Help Each Other Improve (Education, Training and Information)
Assist Other Co-ops (Cooperation Among Cooperatives)
Invest In Their Community (Concern for Community)
This year's national theme is right on target, because "co-ops commit" reflects the ongoing message of The Co-op Advantage in communicating the commitment of regional co-sponsors and their grower-owners to building and maintaining stronger communities.
Cooperatives work for the sustainable development of their communities through grower-owner involvement in local organizations, through charitable and volunteer contributions to community efforts and through support for area schools, just to name a few.
In reflecting on Co-op Month, The Co-op Advantage is committed to all those along the cotton supply chain. In a time of uncertainty with farm policy, unknowns of what will come with this years' harvest or the next, or the next, The Co-op Advantage is committed to grower-owners and the true ownership they deserve in their local co-op and dedicated to encouraging those who haven't joined a co-op to understand the benefits.
A true co-op commits to making money for you, not from you. With true ownership, grower-owners are able to make the decisions, ultimately investing in their own future. It's a commitment to assist your bottom line in a career that is always unpredictable.
Just as all those along the supply chain are committed to getting cotton from field to market; The Co-op Advantage is committed to the legacies of family farms being preserved for generations to come and that local businesses and rural communities will benefit.
Commitment is The Co-op Advantage®.