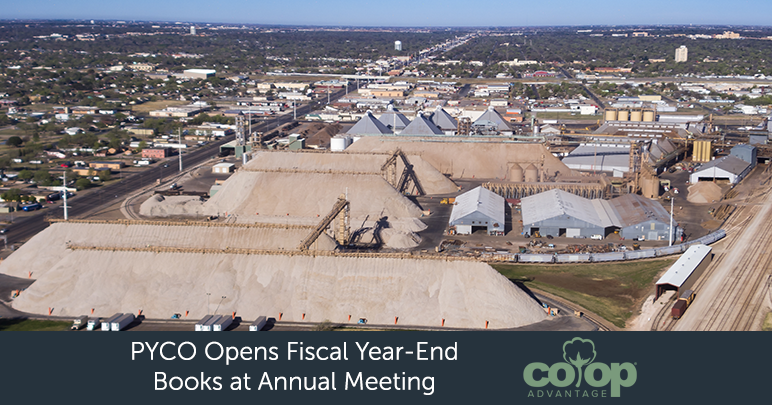 Transparency is one of the constants regularly mentioned when discussing The Co-op Advantage®️.
This week's annual meeting with regional co-sponsor PYCO Industries, Inc., is no exception as grower-owners learned 2017-18 fiscal year's cash dividends and total disbursements.
With a total of 54 gins, PYCO is the largest cottonseed cooperative in the United States. For more than 80 years, PYCO has been turning out high-quality products and maintaining valuable relationships with each of its many co-op gin members. In addition to producing cottonseed oil for cooking, PYCO also markets whole cottonseed and the by-products of cottonseed processing.
PYCO this week announced 2017-18 cash dividends in the amount of more than $11.5 million or $15.82 per ton to their grower-owners, as well as declaring an equity distribution from the base-capital plan of more than $6.7 million scheduled to be paid in January, 2019.
PYCO President and CEO Robert Lacy announced total disbursements for grower-owners equaling $18,468,829 – or $25.05 per ton.
So what does this mean?
"Our member gins are competitive in the marketplace," Lacy said. "We work to assist our growers so they can stay on the farm. Period. If we don't have producers out there growing cotton, there's no need for the rest of us in the industry. We're here for them."
Last year, PYCO received 732,000 tons of cottonseed, allowing PYCO to carry over enough to have a strong start on this year's crop, Lacy explained.
"This is a good thing for the start of a new year," he said. "When it comes to being a producer, and all those along the supply chain – you never know what hand you're going to be dealt. So many variables come into play."
Those variables generally involve Mother Nature, and last year was a tough year, as anyone along the supply chain will agree. But, Lacy encouraged, being part of a co-op is one definitive that can ease the unknowns from year to year.
"Despite hard years, we're able to make something out of it," he said. "From good years to lean years, being part of a co-op allows overall, consistent profitability. It's always about the producer."
That is The Co-op Advantage.